24k Xbox One Pearl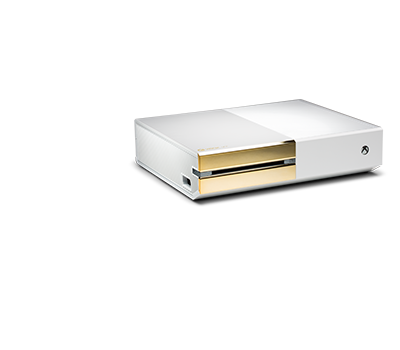 The Xbox One is a beast of a machine. It's built to invade your living room by controlling your games, cable TV, music and movies. And now, it's a rare, limited edition item that is sure to live up to your highest expectations.
The boxy, imposing, black plastic device is now all decked out in a gloss pearl finish with luxurious 24k Gold accents. The exquisite 24k Xbox One Pearl will be the focal point in any room of your home.
The front panel of the Xbox One controller and the top and bottom drive panel of the console have been gilded with a rich, 24k Gold treatment. This luxurious gaming console and controller won't be around along; there are only 50 available.
ColorWare Collection 24k Xbox One Pearl
Limited Edition Xbox One with 24k Gold and Gloss Pearl Metallic Paint
Only 50 available in the series
North American model, Kinect not included
1TB Hard Drive
Includes console, a power cable and adapter, power brick, one wireless controller with batteries, headset and headset adapter, and documents
Comes in original packaging