ColorWare Collection 13" MacBook Air Retro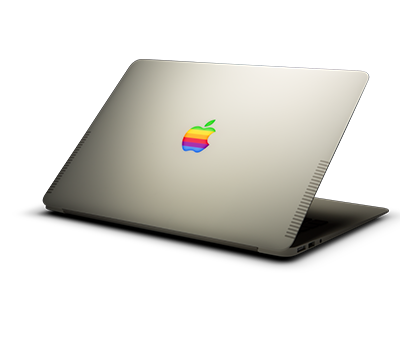 Technology moves quickly these days. Every year Apple applies the full court press and creates amazing new products with powerful processors, extended battery life, more storage and sleeker machines. Then, customers wait in long lines or pre-order new devices all to be the front runners of technology.
When it comes to technology, ColorWare follows suit. Their customers crave the latest updates and they want them stylish and colorful. But, this year, ColorWare was feeling a little nostalgic. They created the Limited Edition MacBook Air Retro that was inspired by the Apple IIe. The laptop itself is the current model of the fully loaded Apple 13" MacBook Air, but there is a cool, retro twist.
The design is reminiscent of the 1980s. The rainbow logo illuminates when the machine is powered up. The contrast of the sleek 21st century hardware coupled with the putty color and faux vents from the 80's are a thrilling contradiction.
ColorWare Collection Apple 13" MacBook Air Retro
Stunning Rainbow Apple logo from the 80s
1.7 ProcessorGz dual-core Intel Core i7 processor
Faster all-flash storage
512GB of memory and 8GB RAM
720p FaceTimeHD camera
High resolution display and Multi-Touch trackpad (non-painted)
12 hours of battery life
Built-in 802.11ac Wi-Fi
Bluetooth 4.0
Mac OS X Mavericks